LONDON 2019
Attended the 2nd event run by the Muses (Ben, Lucy & Elly) at the Hundred Years Gallery venue in Hoxton, London. It's a great compact location with a very friendly host who gives a warm welcome serving tea, coffee, soft drinks & alcohol. The thought of clothing optional for the audience would scare some people off, but I found this only complimented to the interesting stage performance of Lucy & Elly, and it made audience participation that much easier as their was no divide and we were integrated within their performance. I just loved this style of art nude portrayed by Lucy & Elly ably complimented by the distinct sounds from Ben's trumpet. In summary I thoroughly enjoyed this fun event with like minded people in a relaxed friendly atmosphere & hope there are more events of this type allowed in other venues across the UK. 
Richard Williams
I liked this venue, more than the one last year, very original and creative. It achieves the goal to drag people in a virtual reality that stimulates most senses from vision, to sound to touch to taste. Very welcoming and safe environment that allows public to enjoy the show by being themselves with or without clothes. Well done to Lucy, Ellie and Ben! Looking forward the next show.
Adriano
Brilliant performance art/music/dance and sound effects from three talented uninhibited artists. Thoroughly enjoyed this event. Elly and Lucy are beautiful performance artists and a pleasure watch. Look forward to more inspirational body freedom acts and interpretation from these two ( and from Ben of course!)
Brian
A wonderful arts event. We, along with the audience, were hugely entertained by this mixed performance of live music, comedy, art, poetry, nudity and general madness. The performers were comfortable in their own skin, inviting the audience to also bare all. The fourth wall crumbled and the audience were encouraged to participate in the art work. It was refreshing to enjoy an evening of innocent and intelligent humour. Long may it continue! 
Rob & Kat
Thanks for a lovely evening the nudity was fantastic and the World needs more clothes optional audience participation performances, how about a body painting fest where anyone can paint or be painted. 
Graham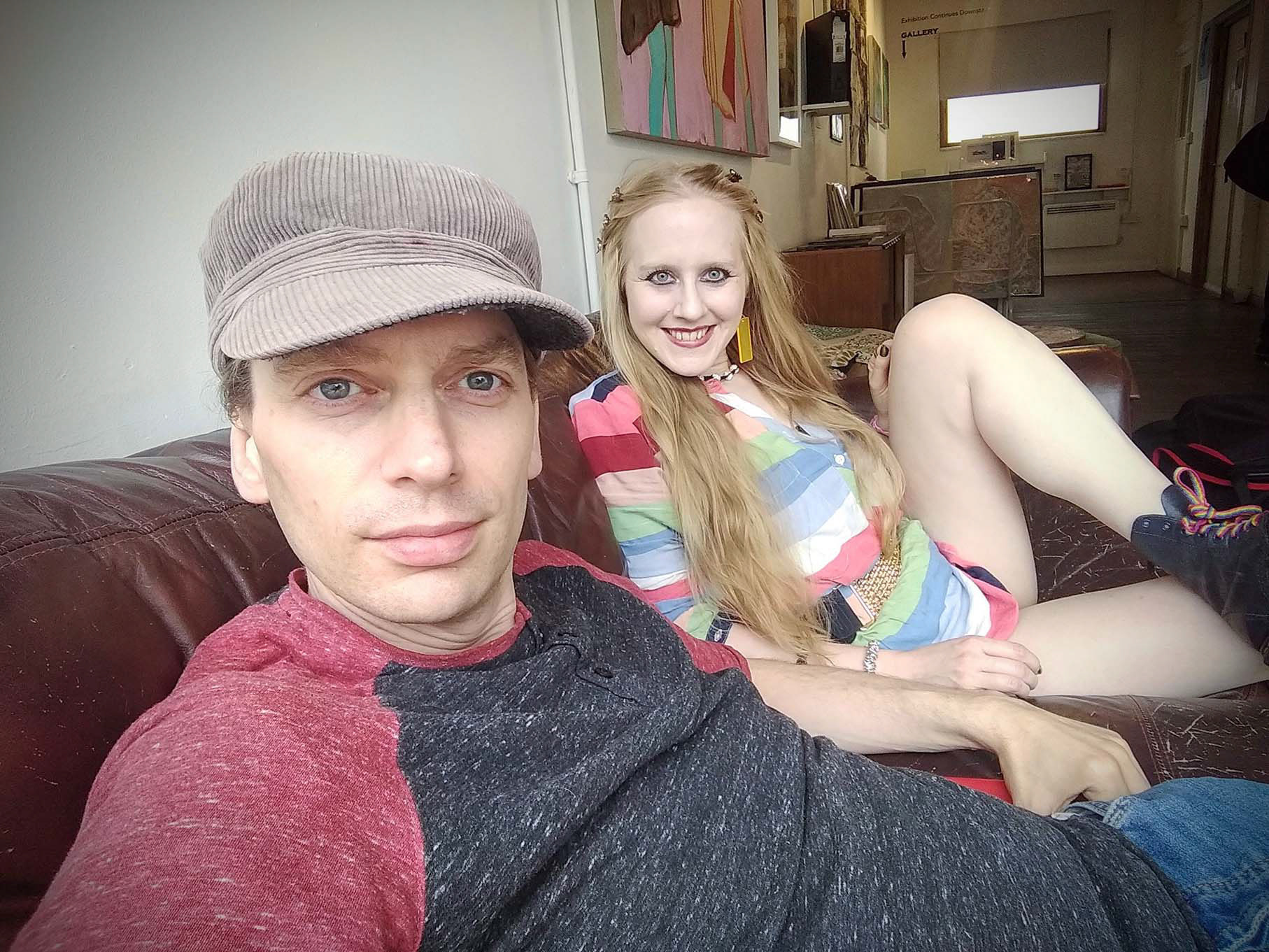 LONDON 2018
This was the second clothing optional performance that I attended and a very enjoyable one too. The addition of the two extra Muses gave greater scope for interaction both between the artists and the audience with a fantastic atmosphere. I would definitely recommend, especially the clothing optional as I felt it helped the audience relate to the performer. This time the music was a little less "raw" but very effective.
Paul Cottrell 
Was a very relaxed & fun evening with like minded people in the Hundred Years Gallery which was a nice venue. The clothing optional theme is a great idea & made me very comfortable along with the other friendly people in the audience. As for the performance, I really enjoyed the evening with the lovely Lucy together with Ellie & Luna, ably assisted with the interesting trumpet sounds from Ben. There was a bit of audience participation too which I enjoyed. Hopefully there will be other similar events like this one, which I would love to attend again.
Richard Williams 
Big thank you to you, the girls and Ben for an excellent evening of dance, performance, music and thought provoking content. Innovative and pioneering, well done! The Hundred Years gallery is quite small for the number of people and piles of clothes, but that didn't spoil the enjoyment (just proves how popular this is). Also the lighting was behind the performance so you were not well lit, perhaps Ben could provide a couple of Front of House lamps for you ( unless its intended to be like that of course!) but sadly I couldn't take any pictures with my camera. However, non of this detracted from the stunning imaginative work. And special thanks the the new comers who performed amazingly well if it was their first time. I can only hope other galleries and performance spaces will be more accommodating to this type of art performance / clothes optional event in the future as you continue to evolve your work. Best wishes, cant wait for more. 
Brian  
A fantastic event! Excellent performances from all the muses and sublime accompaniment from Trumpeter Thomas at Hundred Years Gallery. I loved the storytelling which was interwoven with parsnip carnage, the integral humour, expression of female power and audience interaction. It was a total visual feast with body painting and power poses a-plenty. Lucy Muse although small in stature, has a commanding stage presence and directs her fellow muses (friend and sister) with affection and strength. I'll be back!
Emma James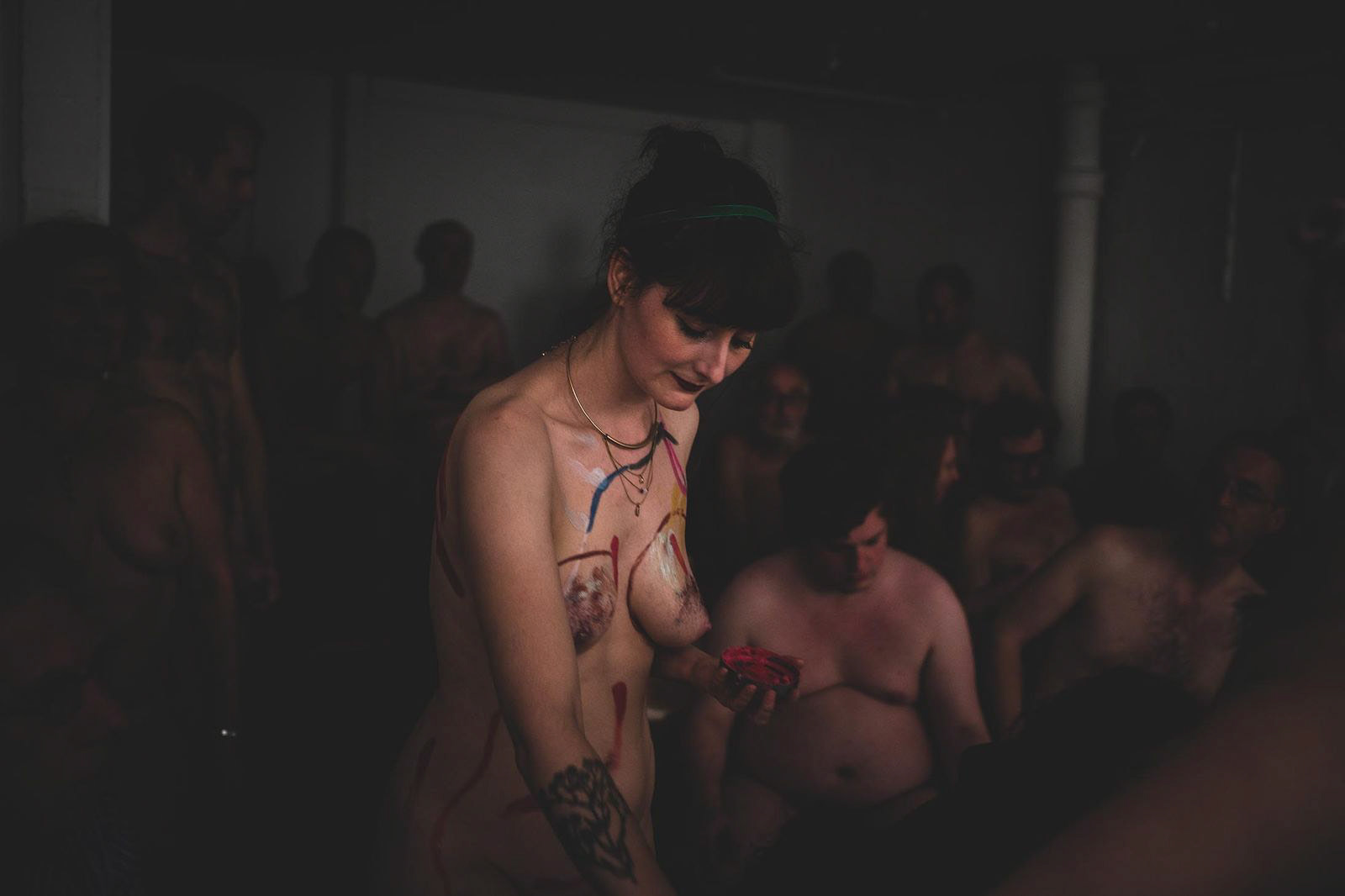 CARDIFF 2018
Just got back from a fabulous evenings entertainment from the Thomas and Muse band- pioneering what I guess could be best described as Avante-Garde Jazz performance art. Amazing musicianship and a truly unique blend of original tunes and covers of Zappa, The Beatles, Robert Wyatt and Spinal Tap. Even the workmen outside digging up the road were glued to the windows, captivated by the music inside. When I left they gathered round asking what is that music? It's Jazz!!! I replied. Congrats as well to Dave Daggers for opening the evening- armed with his Ukulele, wit and charisma. Who could ask for more?
Dave Roach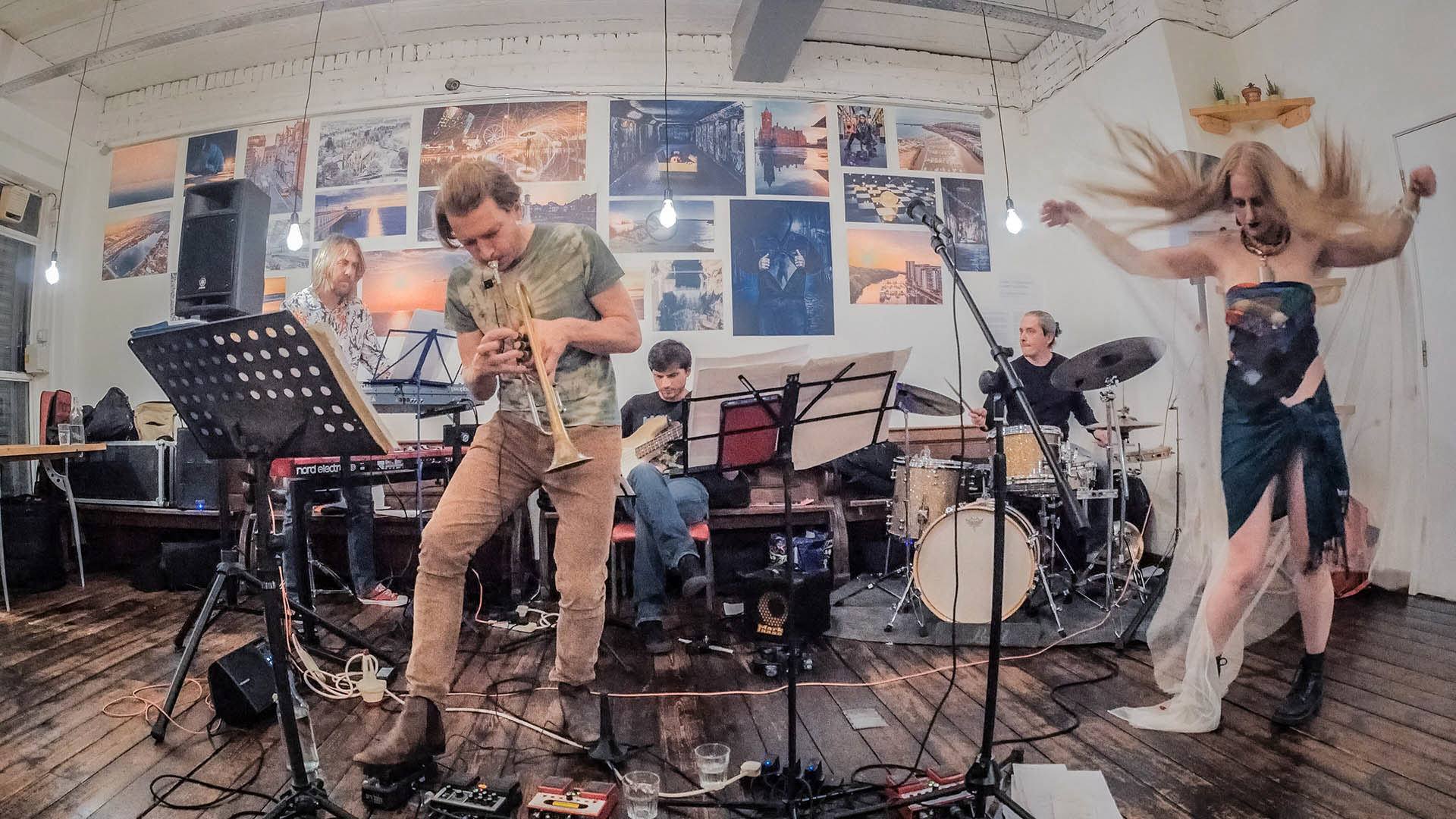 CARDIFF 2018
I had been looking forward to attending the Exposure Enclosure from Thomas & Muse for quite a few weeks. I must say that the performance didn't disappoint. It was truly a unique and creative way to spend an evening. They were both able to hold the audience's attention and capture their imaginations from start to finish. it was immersive, interactive and a colourful form of artistic expression. Well done, I'm already looking forward to seeing them again soon. If you want an unforgettable experience, I would highly recommend that you go to see them!
Henlifemodel
I've just got home from a mind bending performance of Exposure/Enclosure by Thomas and Muse at Little Man tonight. Performance art at it's most visceral and intense; The audience was left stunned, amazed and covered in paint and flowers in a happening that mixed music, spoken word and improvisation in an exploration of identity, sexuality and ritual. Genuinely unforgettable.
David Roach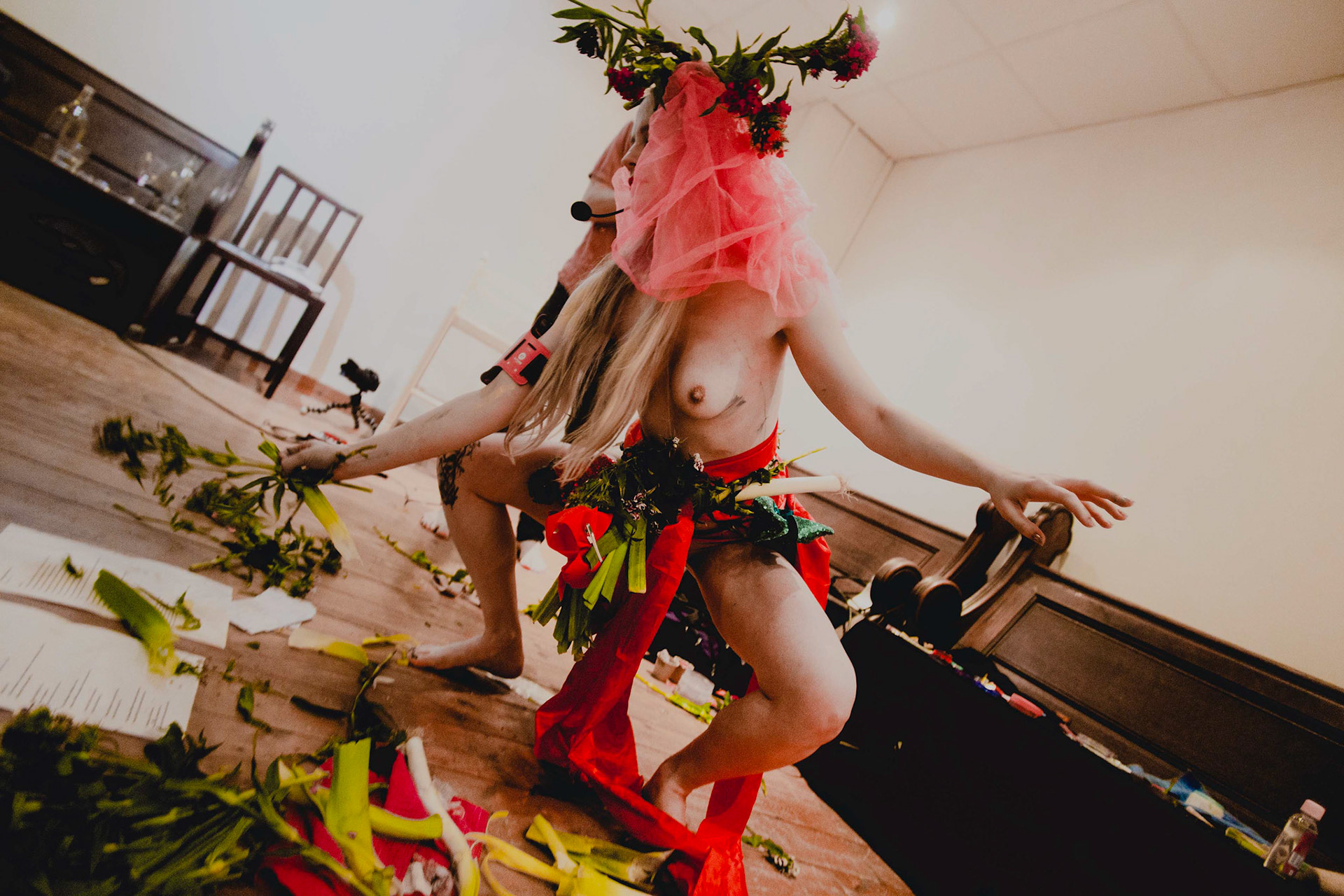 LONDON 2018
What a lovely event this was! Most people nude, but not sexual and no trouble! Alcoholic drinks but no drunkenness. Nice folk!
Michael
I found it refreshing that an artistic endeavour partly using the medium of nudity as a blank canvas also allowed the audience to be clothes free. This was one of the reasons I attended and I wasn't disappointed.
Paul 
A entertaining and inspiring evening spent with friendly, like minded nudists. Thomas and Muse are a fabulously quirky act. I can't wait for next time.
John 
I attended Exposure Enclosure along with two friends as part of a series of clothes optional events over a long weekend, including the musical Skin Deep, a day at a sun-club, a naturist swim and naked yoga and a naked lunch at a restaurant. Being able to be naked is the prime motivation, but the performance of Lucy Muse has grown on me in the days following the experience. To share an event in the company of like-minded individuals is friendly, tolerant and stress-free and to be free of clothes is relaxing and comfortable. Lucy chatted to the audience before and afterwards and her performance included the audience so it was a shared experience and in no sense voyeuristic. The performance was unique in my experience as Lucy used her skin to create stories reminding me of the Illustrated Man by Ray Bradbury. I was particularly taken with her story Mr Bagshott. I am a great fan of radio plays – television provides only the producers vision and in great detail whilst radio allows free play of the imagination. Lucy creates stories with skill and directs your imagination along the lines and colours she draws and invites the audience to draw, and creates a magical space with a dream like quality. So it was like visual radio for me. Commonly body paint is used for protests such as the World Naked Bike Ride or for exhibitionism. The expressionism is like 19th Century painting. The abstract quality of Lucy's performance brings a modernist quality to expression that is fully in tune with the naturist idea of blending the natural with the best of the modern world. In the past this was associated with physical health and modern medicine, directed to the body. Combined with Thomas's innovative music and abstract sound effects, this performance attended to the mind. The effect of the plain basement room was to create a safe cocoon away from the outside world in which to share a directed dream in a shared and humanist, respectful environment. Whilst Lucy has created online videos of her work, but there can be no substitute for a live performance and the shared experience.
Philip