AUDIENCE FEEDBACK
*CHECK OUT OUR FULL TESTIMONIAL PAGE HERE*
I had been looking forward to attending the Exposure Enclosure from Thomas & Muse for quite a few weeks. I must say that the performance didn't disappoint. It was truly a unique and creative way to spend an evening. They were both able to hold the audience's attention and capture their imaginations from start to finish. it was immersive, interactive and a colourful form of artisitic expression. Well done, I'm already looking forward to seeing them again soon. If you want an unforgettable experience, I would highly recommend that you go to see them!
Henlifemodel
A fantastic event! Excellent performances from all the muses and sublime accompaniment from Trumpeter Thomas at Hundred Years Gallery. I loved the storytelling which was interwoven with parsnip carnage, the integral humour, expression of female power and audience interaction. It was a total visual feast with bodypainting and power poses a-plenty. Lucy Muse although small in stature, has a commanding stage presence and directs her fellow muses (friend and sister) with affection and strength. I'll be back!
Emma James
I've just got home from a mind bending performance of Exposure/Enclosure by Thomas and Muse at Little Man tonight. Performance art at it's most visceral and intense; The audience was left stunned, amazed and covered in paint and flowers in a happening that mixed music, spoken word and improvisation in an exploration of identity, sexuality and ritual. Genuinely unforgettable.
David Roach
Was a very relaxed & fun evening with like minded people in the Hundred Years Gallery which was a nice venue. The clothing optional theme is a great idea & made me very comfortable along with the other friendly people in the audience. As for the performance, I really enjoyed the evening with the lovely Lucy together with Ellie & Luna, ably assisted with the interesting trumpet sounds from Ben. There was a bit of audience participation too which I enjoyed. Hopefully there will be other similar events like this one, which I would love to attend again.
 Richard Williams
UPDATED - 30th November 2018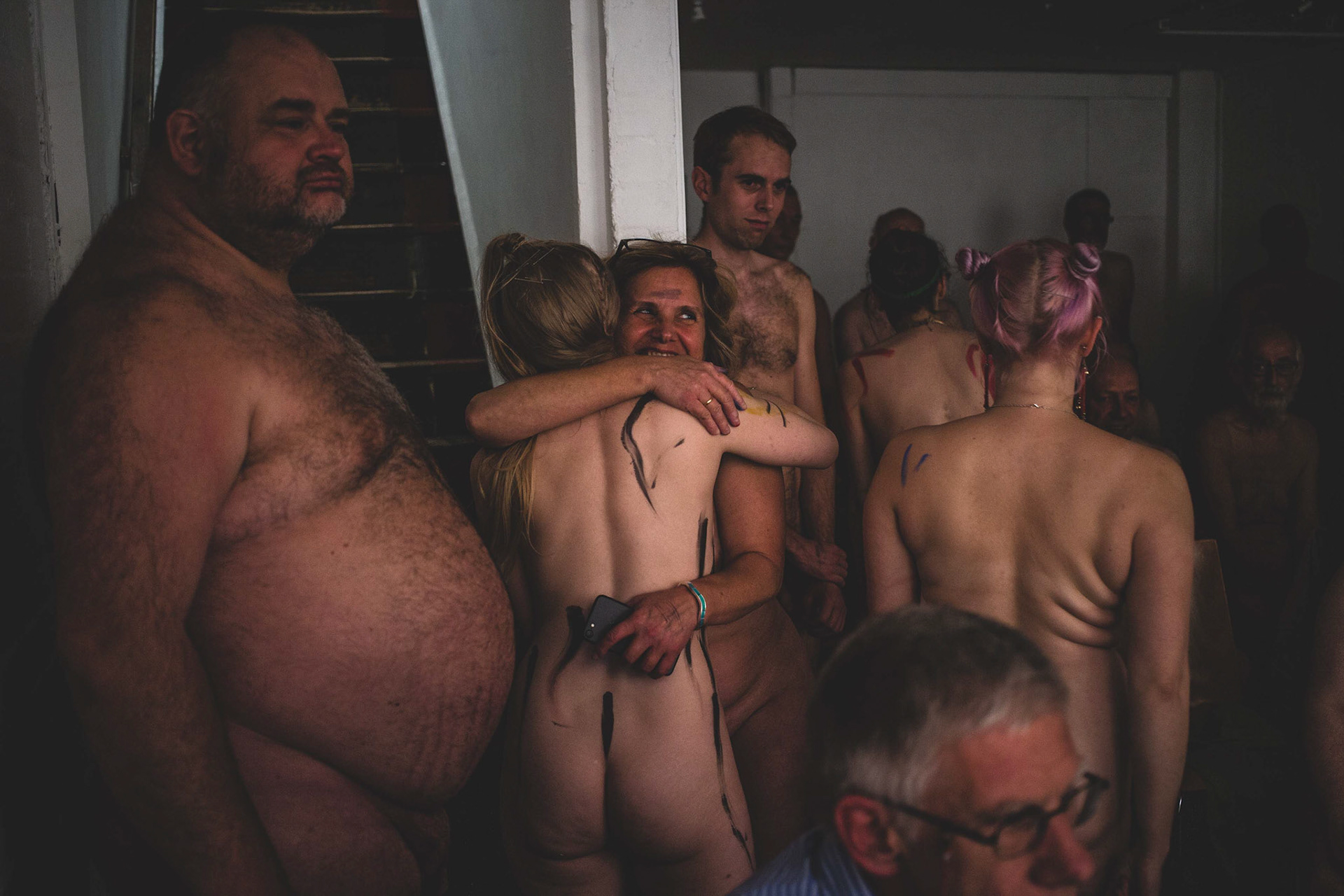 A YEAR IN IMAGES
*CHECK OUT ALL OUR 2018 IMAGES VIA OUR BACKSTAGE PASS HERE*
2018 has brought us a visual feast...
UPDATED - 29th NOVEMBER 2018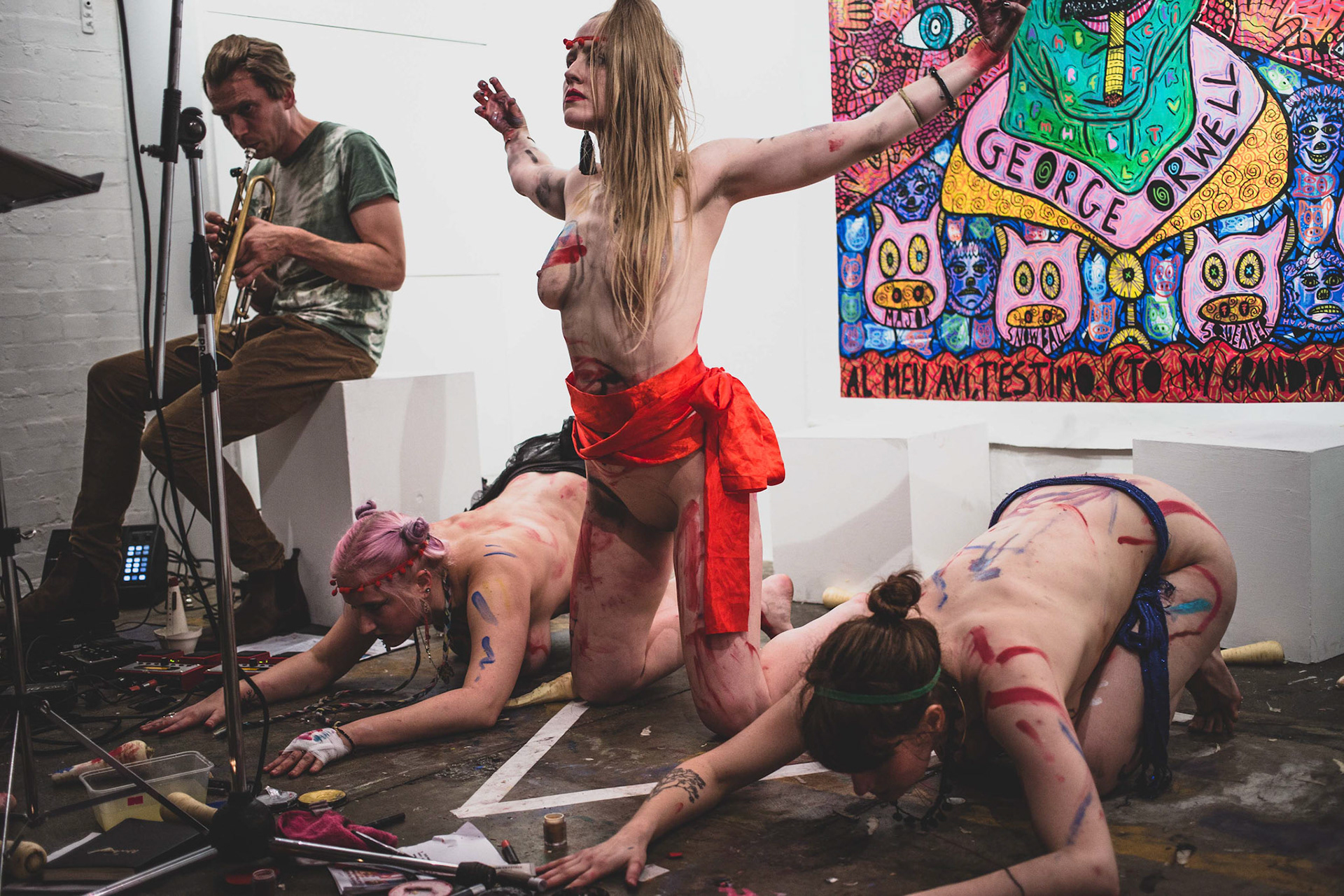 IN CONVERSATION 
Thomas & Muse in conversation at Hundred Years Gallery with The Muses - Luna Fae (Lucy's REAL SISTER) and Elly Raine. 

UPDATED - 2nd October 2018
UPDATED - 6th September 2018

SUMMER SOLSTICE

Filmed on the Summer Solstice (21st June 2018).

UPDATED - 9th July 2018

BEING A NAKED ARTIST BY LUCY MUSE

It has taken me a while to do so but I have decided to become a naked artist. Being a self confessed naked person this may come as no surprise but it has taken a lot of consideration for me to make this decision. What does it mean? Well for as long as I can remember I have created (mostly) painted imagery in a very conventional way. I felt compelled to continue my work (as an artist) but always felt that there was more but never knew what that may be. I needed a push...which is precisely what I got when I teamed up with musician and creative person 
Ben Thomas
. Ben is a prolific producer of music and creative work. He constantly deconstructs his work and this is something that we now do as 
Thomas & Muse
.
During this process it has become clear to me that the dissatisfaction I felt previously (as an artist) dissolves when I perform and create my artwork nude. It is a form of expression. To reveal my body, my whole self and possibly beyond to give as much as I can at any given moment. It's terrifying but exhilarating at the same time. This is how I think of myself now. I am at ease being a naked person and now a naked artist. It feels honest and real. I can't wait to continue my work to see where this leads me. In my opinion this is what art (and life) should be - challenging, exciting, unexpected (a bit scary), humbling, fragile and a lot of fun! 
Lucy Muse 
UPDATED - 3rd May